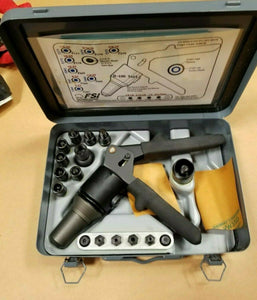 5180-01-201-4978 D-100-MIL-1 FSI BLIND TOOL RIVET KIT
5180-01-201-4978 D-100-MIL-1  FSI BLIND TOOL RIVET KIT 
Discounted for temporary time. 
D-100-Mil-1
FROM FSI: 
"Virtually any straight pull (single action) blind fastener with a required load of 5,000 lbs or less can be installed with the D-180 Series Riveter. Used with commercial airlines, private airplane and helicopter fleet owners"
Pull Force: 5000 lbs
Stroke: .825"
Overall
Dimensions:
9.50" L x 1.75" W
x 6.25" H
Power
Source:
Hand Operated,
Two Valve Cylindrical Hydraulic Pump Assembly
with Pressure Relief Valve.
---
We Also Recommend
---